DFA Board
Midwest  |  East  |  South  |  West  |  Forum  |  Appointed
Midwest Chapter Representatives
Steve Gfell
Vice-Chairman of the Board
16 Stores in Ohio
gfells4@neo.rr.com
Term Expires:  December 2017
Born and raised in Norwalk, Ohio.  Married to Nancy and has 2 children, Abigail and Thomas.
Steve started with Domino's Pizza in 1987 in the Norwalk store eventually franchising in 1992.  Presently has 16 stores throughout north central Ohio including 4 theatre new builds and 4 remodels.  Steve serves on the Midwest regional advisory board, is a Gold Franny winner and the board of directors for the Cleveland Co-Op.
» Why do you choose to serve on the DFA board?
I believe the franchise body benefits greatly from the unified voice of its peers.  My desire is to hear all issues and concerns that you may have and to deliberate them with the other board members to create solutions and options that will best satisfy the majority. Even if those solutions or options may differ from my personal beliefs.  It is the whole that counts and not the part.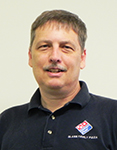 John Glass
26 Stores in Ohio
gfpi96@gmail.com
Term Expires:  December 2016
John started with Domino's Pizza in 1982 as a driver and worked his way up through the ranks until becoming the VP of operations for Pat McNeil.  John decided to become a Franchisee in 1996 with the purchase of the original Domino's Pizza store opened in Cincinnati, OH.  John currently owns and operates 25 stores in the Cincinnati DMA which range in demographics from inner city to high income as well as college campus to small rural stores.  John's address counts range from 2,000 to 25,000 addresses which gives him a real world experience on a wide variety of factors facing Franchisees across our system.  John currently sits on the Midwest Advisory Board and serves as Co-op president for his area.  John is very active in various children charities and church work.
» Why do you choose to serve on the DFA Board?
I chose to serve on the board to learn what I can, to network with the best and hopefully influence the direction, procedures and decisions that I can.
» Which resources do you recommend Franchisees utilize to benefit their business?
I think that franchisees get the most out of the DFA by going to meetings and networking.

Art Hurteau
13-stores in St. Louis
dominosteam@aol.com
Term Expires: December 2018

Art started working with Domino's in 1977 and then franchised in 1981 with Marty Prather, his business partner ever since.  He is a 13 store franchisee in SW Missouri and has spent 5 years on the MO SCC Advisory Board and 3 years on the Midwest Regional Advisory Board.  He currently is a member on the Domino's Forum Board. Art is a longtime member and supporter of the DFA and has served on the DFA Board for many years.  Art has had 3 Gold Franny's and 8 Silver Franny's.  He was 2nd in 2014 in service for 10+ stores. Art averaged a 4.31 OER in 2014.
His motto – Leadership is key!
East Chapter Representatives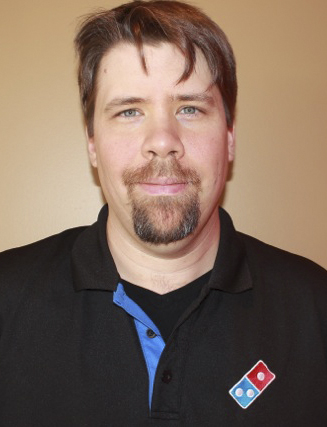 Rob Jonas
1 store in New Jersey
jonaspizza@hotmail.com
Term expires:  December 2017
Rob started with Domino's Pizza in 1994 as a driver.  He worked his way up through management and was a successful General Manager in New Jersey (managing 3 different stores for Team USA).  In 2001, Rob was promoted to the OER Team, where he was a Coach in the Mid Atlantic Region.  During his 7 years with the department, he visited close to 1000 stores a year in 25 different states.  Rob was a District Manager from 2006-2007 in NJ, NY and PA until he and wife Adelia, purchased their single store in 2008.  In 2010, the store was awarded with Manager of the Year, with the award going to his wife Adelia.  Robert is very active in the Philadelphia DMA, acting as a certified trainer, he donates his time to help train others in the region.  Robert and his wife both serve on many local charity and community organizational boards.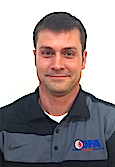 Chris Reisch
7-stores in Kentucky
cdreisch@msn.com
Term Expires:  December 2016
Chris started with Domino's Pizza in 1992 as a delivery driver with Team Washington.  In 1996, he was named the National Safe Driver of the Year, a manager in 1998, a supervisor in 2001 and finally a Franchisee of 2 stores. Chris now has 7 stores and has won two Gold Franny Awards in 2005 and 2006.  He has served as the Lexington DMA President for 3 years, as well as serving on Jim Stansik's FLC for 2 years.  Chris is currently on the Kentucky Distribution Center Advisory Board.
Chris has been happily married to Deanna since 1990 and has 3 children – Christian II, Isabella, and Juliet.
» Why do you choose to serve on the DFA Board?
When Chris franchised years ago, he was a very good operator, but had to learn the hard way how to be a good businessman.  He survived with the advice of many great Franchisees and would now like to give back and help others to avoid the mistakes and pitfalls he encountered since becoming a Franchisee.  Serving on the DFA board allows me to be available to help others.
» Which resources do you recommend Franchisees utilize to benefit their business?
Each other.  No matter what Franchisees face, there is someone in the system who has gone through it and can give invaluable help and advice.  There is real strength in collective knowledge.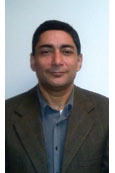 Osman Qasim
37-stores in North Carolina
osmanq@carolina.rr.com
Term expires:  December 2018
Osman is a 37 store franchisee in the Charlotte, NC DMA.  He has been with Domino's Pizza for 27 years, a Franchisee for 22 years and has received three Gold Franny's during his career.  Osman currently sits on the National Distribution Advisory Board, and the Technology Advisory Board.
South Chapter Representatives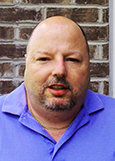 Peter D'Andrea
20 Stores in Tennessee & Virginia
pdandrea@dominosvols.com
Term Expires:  December 2016
Peter has been with Domino's since 2002 where he served 3 years as a Franchise Regional Manager winning 2 regional manager of the year awards.  He then served 2 years as a director of development for the Southeast Region.  Peter has been a Franchisee since February of 2008. Peter works closely with Children's Hospital Dream Connection, for terminally ill children.  He is also a strong supporter of the University of Tennessee Athletics.
» Why do you choose to serve on the board? 
I chose to serve on the DFA Board to represent franchisees like myself who love Domino's Pizza.   I want to maximize every opportunity available to further our businesses through understanding and cooperation with Domino's.  Realizing our interests run parallel, and sometimes will collide, I want to protect our bottom line always….
» Which resources do you recommend Franchisees utilize to benefit their business?
The most important tool I use is PWR.  It allows my team and I the opportunity to run my business in real time. Coupled with cameras in every store for security and training… the opportunities are invaluable.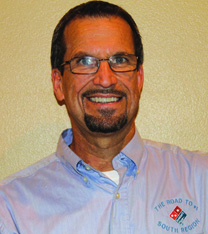 Brent Medders
20-stores in Arkansas
imaugaman82@aol.com
Term Expires:  December 2015
Brent began as a driver in 1981 in Athens, GA for Mike Conway while attending the University of Georgia.  He served as manager, supervisor, and director of operations before buying his first store in Charlotte, NC.  He proceeded to build 3 additional stores, but sold them 3 years later.   He then served as Regional Director of Training for corporate for two years, before franchising again with two new builds in south central Tennessee.  Three years later, Brent sold these two stores to re-develop the Little Rock market.  He has now been in Arkansas for over 19 years and after successfully developing central Arkansas, has moved on to re-develop northwest Arkansas.  He has owned and operated 30 stores in his career.
Brent is married to Laura for over 20 years and has 4 children; Cole, Shelby, Lucy and Brandon.
» Why do you choose to serve on the board?
Brent has been extremely fortunate to work for, and alongside, many outstanding individuals and high level operators.  He serves in order to pass along the knowledge and insight he's gleaned through these relationships to others in the franchise community.   Additionally, his business is changing at a faster pace than at any other time in history, and it is vital the franchise community be unified and informed.  Ultimately, protecting the integrity of the Brand comes first… whether that be locking arms with DPLLC, or vigorously voicing concerns when necessary.
» Which resources do you recommend Franchisees utilize to benefit their business?
The franchise community is by far the most valuable resource we have.  Involvement in the DFA and participation in DMA meetings, town meetings, rallys, etc. are but a few of the ways to continuously connect with fellow Franchisees.  He recommends that you pro-actively reach out and seek out fellow Franchisees when faced with difficult challenges or in search of innovative solutions.
Alan Murph
Treasurer of the Board
66-stores in San Antonio & Tennessee
alan.murph.d@gmail.com
Term Expires:  December 2017
Alan is President and CEO of South Texas Pizza, Inc.  In 1983, he started with Domino's while attending University of North Texas in Denton.  While working for Jim Garner in Plano, Alan fell in love with Domino's Pizza and in 1985 went to work for DPLLC.  In November 1987, he franchised his first store in San Marcos TX.
Alan and his wife, Michelle, met at Domino's Pizza during the rush and have four children:  Rachel, Derek, Moriah, and Benjamin.  Alan and Michelle enjoy working outside, watching classic movies and spending time with their kids and friends.
» Why do you choose to serve on the DFA Board?
Serving on the DFA Board is an honor, as he gets to represent the franchisees in the West Chapter and enjoys learning and helping others.
» Which resources do you recommend Franchisees utilize to benefit their business?
The greatest resources are each other.  Every Franchisee has great ideas to share and can learn from one another.
West Chapter Representatives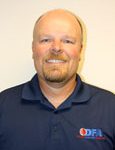 Mike Brown
Secretary of the Board
8-stores in Seattle
Office 253.474.483 | Cell 253.468.8557 | mbrown8582@aol.com
Term Expires:  December 2017
Mike and his family settled in Tacoma, Washington in 1980 after moving around the world with his father as a military brat.  He has been married for over 26 years with two children who have graduated from college and now manage stores.  Mike enjoys sports, camping, hiking, traveling and, most of all, drag racing his 1970 Nova.
» Why do you choose to serve on the DFA Board?
Mike enjoys networking and sharing with other Franchisees and managers.  He believes many people have stepped up to make this a great company over the years and he wants to pay it forward in thanks to the many great Franchisees which have served before him.
» Which resources do you recommend Franchisees utilize to benefit their business?
Network within the Domino's Pizza family.  He recommends Franchisees join the DFA, attend DMA meetings, rallys, training classes, or any other chance to network with fellow Franchisees.  He says this group of Franchisees have a wealth of knowledge about the business which will benefit each other.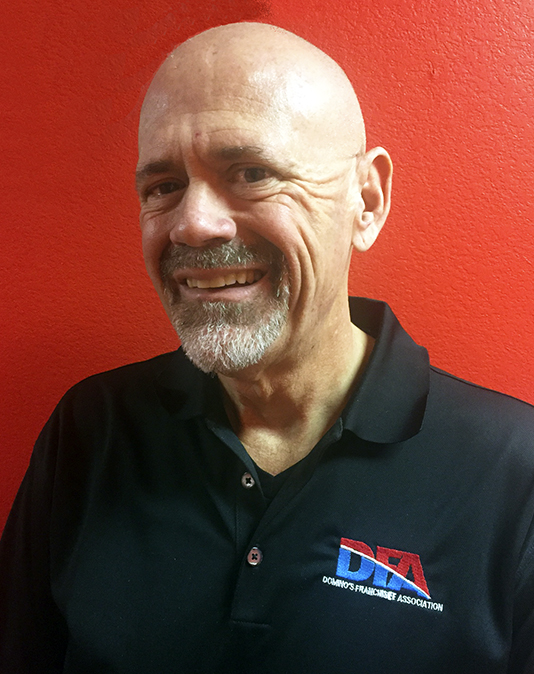 Jim Gerety
Chairman of the Board
13-stores in Texas
james.gerety@att.net
Term Expires:  December 2016
Jim Gerety started with Domino's Pizza Distribution in 1982 as a General Manager. He began in Southern California before moved on to Hawaii, Washington and Colorado.   He left the company in 1985 and returned in 1988 as a General Manager for Roger Cohn's commissary in Tucson, AZ. In 1999, he partnered with Roger Cohn and franchised in Midland/Odessa, TX.
Jim is married to Cassie, who serves as Operations Director and partner in the business.  He has two daughters, Katie and Christine, as well as 3 stepchildren.  Jim enjoys riding his 2011 Harley-Davidson Road Glide, 2008 Victory Vision and 2006 Honda Goldwing.
» Why do you choose to serve on the DFA Board?
Jim serves to help erase the lines of division drawn in the sand by DPLLC.  He hopes the DFA Board will be instrumental in the coming year to bring fairness and equity between the Franchisor and Franchisee.
» Which resources do you recommend Franchisees utilize to benefit their business?
Wizardline and Domino's Talk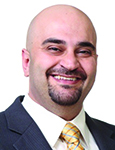 Tareq Hishmeh
Executive Board Member
82-stores in Arizona & California
tareq@hishmehenterprises.com
Term Expires:  December 2018
Tareq is one of the Partners in the Hishmeh family Franchisee organization who own and operate over 80 stores throughout California and Arizona.  He has been involved in Domino's Pizza operations for over 20 years.  After earning his law degree from Loyola Law School in 2004, Tareq's primary focus has been in providing legal counsel and HR support to the Hishmeh organization and many other Domino's Franchisees around the country.  Tareq is the fulltime COO/GC of the Hishmeh's 22 stores in the Tucson AZ market.
» Why do you choose to serve on the DFA Board?
The DFA brings an opportunity of the franchisees to speak directly to the franchisor in a unified voice. There is no question in my mind of the importance of the organization.
» Which resources do you recommend Franchisees utilize to benefit their business?
As a former practicing attorney, I am a somewhat self-interested in this question. I would say every franchisee needs to have a good attorney who knows there business and what knows what keeps the franchisee up at night. This is not a solicitation since I am no longer practicing.
Forum Representative
Mack Patterson
39-stores in North Carolina
mack.patterson@gmail.com
Mack started his career with Domino's Pizza straight out of the University of North Carolina in 1979 eventually franchising in Champaign, Illinois in 1981. He returned to the Carolinas in 1989 when he "traded" stores in Illinois and Indiana for stores in Charlotte, North Carolina.
Mack has served on numerous Domino's franchise, corporate committees and boards in the past including the Standards Committee, the Marketing Committee, DMAC, the President's Advisory Board and the People First Advisory Board. He served three terms as president of the Midwest Regional Franchise Advisory Board. He is a long time Member of both the DFA and the Forum and their predecessor groups.
Board Appointed Member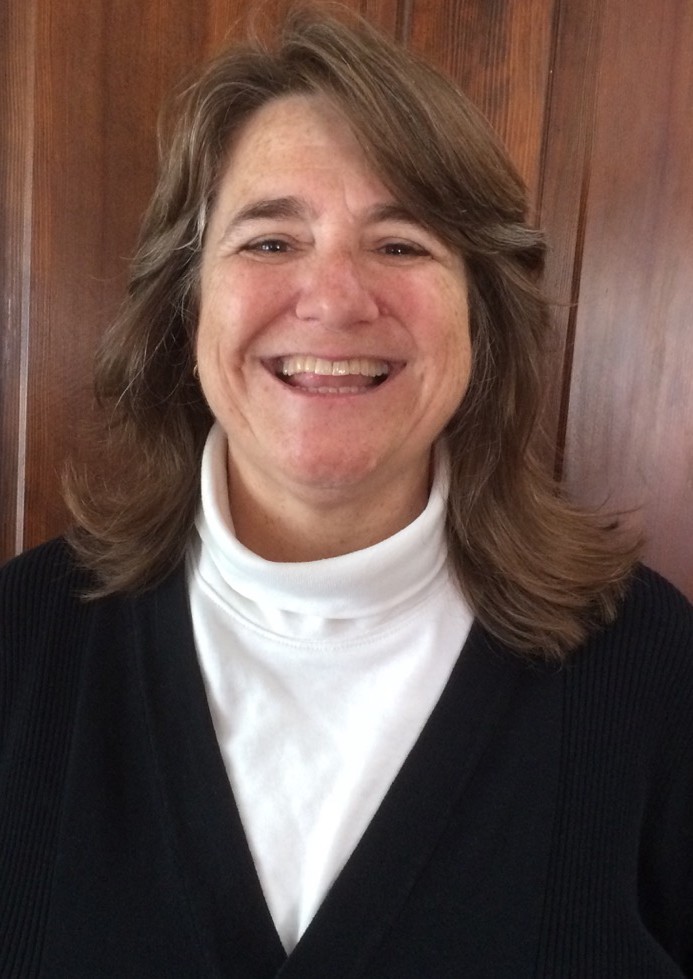 Pam Tobie
6-stores in San Diego
dpslammed@aol.com
Pam's career with Domino's began in 1984 as a delivery driver in Coronado, California while attending San Diego State University. After graduating with a Bachelor's Degree in Economics, she entered the management program. Pam worked as a manager then was promoted to a supervisor for Mike Brown and Mike Paul.  In 1996, Pam partnered with Mike Brown and now has ownership of 6 stores in San Diego.
Pam serves on the Technology Advisory Board, Franchise Communications Council, West Region Advisory Board, DMAC, DNAF, Women's Leadership Forum and is President of the San Diego DMA. She has won the Women's Leadership Forum Award, Grassroots Award, Excellence in Execution plus 2 Silver Frannies and 4 Gold Frannies.
Forum Representative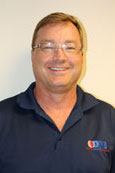 Daniel Dain
9-stores in Corpus Christie, TX
dwdpizza@aol.com
How does your membership with the DFA benefit you?  It gives Franchisees a voice.  There have been many changes that have come from Domino's that, had the DFA not stepped in, would have cost us much more money.  It is also a great way to meet many other Franchisees that you can get advice from.
Learn about the structure of the DFA Board