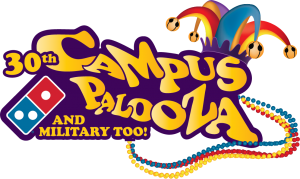 Campuspalooza…
& Military Stores Too!
April 10 – April 12 | Sheraton Canal Street | New Orleans, LA
---
General Format & Agenda
Campuspalooza is an educational meeting sponsored by the DFA, Domino's and Teampalooza for Franchisees, Marketing, Operations, and General Managers of Campus and Military stores.
Who Should Attend?:   
Franchisees, Marketing Directors, Operations and General Managers from Campus and Military Markets, and Relentless Marketers from any organization!
What's on the Agenda?:   
SUN APR 9 (4pm-until) Store Tours and a Louisiana Bayou Crawfish Boil with live music. New Orleans site seeing options, WWII Museum Movie and "Big Fish" fishing available upon request.
MON APR 10 (1:30-5pm) Franchisee recruiting, retention and training summit. Registration Opens at 1pm. The welcome is at 5pm. A vendor sponsored reception is at 7pm with Texas Hold'em and Bean Bag Toss to benefit the Partners Foundation.
TUE APR 10 Meetings begin at 8am. Later is a vendor sponsored River Boat Cruise and Second Line to the French Quarter.
WED APR 11 (8am-until) Meeting and Awards. An invitation to Store Tours and a 10yr post Katrina visit to RPM's Office, Dinner and private tour stop at Stennis Space Center or the WW2 Museum.
Campuspalooza Registration Fee:
$100  (before 3/31/17) Covers Monday's welcome session plus two lunches and Tuesday's dinner/Networking party!
________________________________________________________________________________
Hotel Information
$149 per night
Sheraton Canal Street
(888)627-7033 (Ask for the Campuspalooza Room Block)
500 Canal Street
New Orleans, LA
Online Reservations Click Below:
Campuspalooza Hotel Reservations
Contact dfacampuspalooza@gmail.com with any questions or comments!