A Message From The Chairman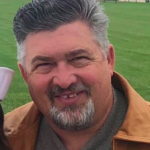 Welcome!
On behalf of the Domino's Franchisee Association Board of Directors, I want to extend you a warm welcome to our website. The Domino's Franchisee Association (DFA) represents Franchisees collective interests within the Domino's Pizza Brand. DFA membership represents 84% of all Domino's Franchise owned stores and many Vendor Partners that provide goods and services to the Domino's Brand.
Our Board of Directors represents Franchisees interests by working directly with our executive director, Ken Peebles, to represent to Domino's Pizza leadership our important issues and challenges that are facing the Brand. They also actively participate on Brand committees working in critical areas such as Marketing, Technology, and Supply Chain Oversight.
The DFA represents the interests of Franchisees within the Domino's Pizza. Our objectives are to:
Work together as a Franchise community to positively influence decisions that will impact your long-term net worth.
Learn from successful Franchisees through the DFA Best Practice Sharing programs.
Provide peer representation through a Board of Directors comprised of 12 elected Franchisees from all over the country.
Provide access to many Vendor Partner discounts and resources only offered to DFA Members.
Provide regular communication from the DFA and our Vendor Partners keeping you up-to-date and informed.
Provide access to legal opinions on contracts, Franchisee rights and other important business decisions.
Speak and be heard with a unified voice as part of the Domino's Pizza Franchisee community.
We hope you find our website useful. If you are a Domino's Franchisee, and not currently a DFA member, we urge you to contact our Membership Leader Chris Rowe to discuss how membership can help you with your investment in the Domino's Brand. If you are just visiting, we hope you will order your favorite pizza at our website, dominosdfa.com!
All the very best,
Shane Casey
Chairman of the Board