The Voice
The Voice of Domino's Pizza Franchisees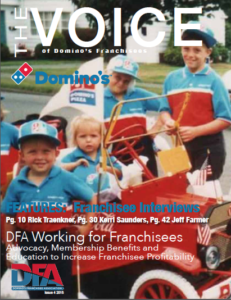 The Voice of Domino's Pizza Franchisees is a full-color, quarterly magazine distributed to all Domino's Pizza Franchisees in the continental US, as well as Domino's Pizza corporate executives and DFA Vendor Partners and Associates.
Topics we feature in the magazine include Franchisee interviews, profitability best practices, CEO Update, meeting and event recaps, upcoming event announcements, DFA Board and Staff information, training advice, marketing tips, survey results and much more!
What are the benefits of advertising in The Voice?
Guide for Franchisees when searching for a company, product or service
Introduction of your company to the Domino's community
Showing support of Franchisees by supporting their Association
Increased demand by Franchisees because of additional content and advertising
View of current trends in the Domino's community and who the franchisees are and what they want
Distributed to all Franchisees in the continental U.S.
Questions?
If you have questions or would like to place a print ad reservation, please contact Scott Senne at scott@dominosdfa.com. Please see the link below for current web and print advertising rates.
Please note: Only Approved Vendors can advertise with the DFA. If you are not an approved vendor, complete and submit an application. They can be found here.
Visit our Sponsors